What may come in 2023
Everything is new in January
New year, new luck. Or what was that again? In any case, this year I don't want to leave anything to chance and bring a little more strategy and planning into my little business.
What may come in 2023
Before I tell you a bit more about what's to come in 2023, I would like to share my learning and a little review from 2022 with you.
2022 was a really great and above all also a trend-setting year. While at the beginning of the foundation of my small business it was clear, I can only earn my money as a Surface Pattern Designer through licensing to customers, in 2022 I found ways and directions that fit me much better. Because I don't feel comfortable imposing my work on any companies. And even though it would be great to license my patterns to small and large companies someday, I'm not willing to cold call for it. So I cross this item off my list and instead focus on other areas that I really enjoy.
Multiple income streams as a surface pattern designer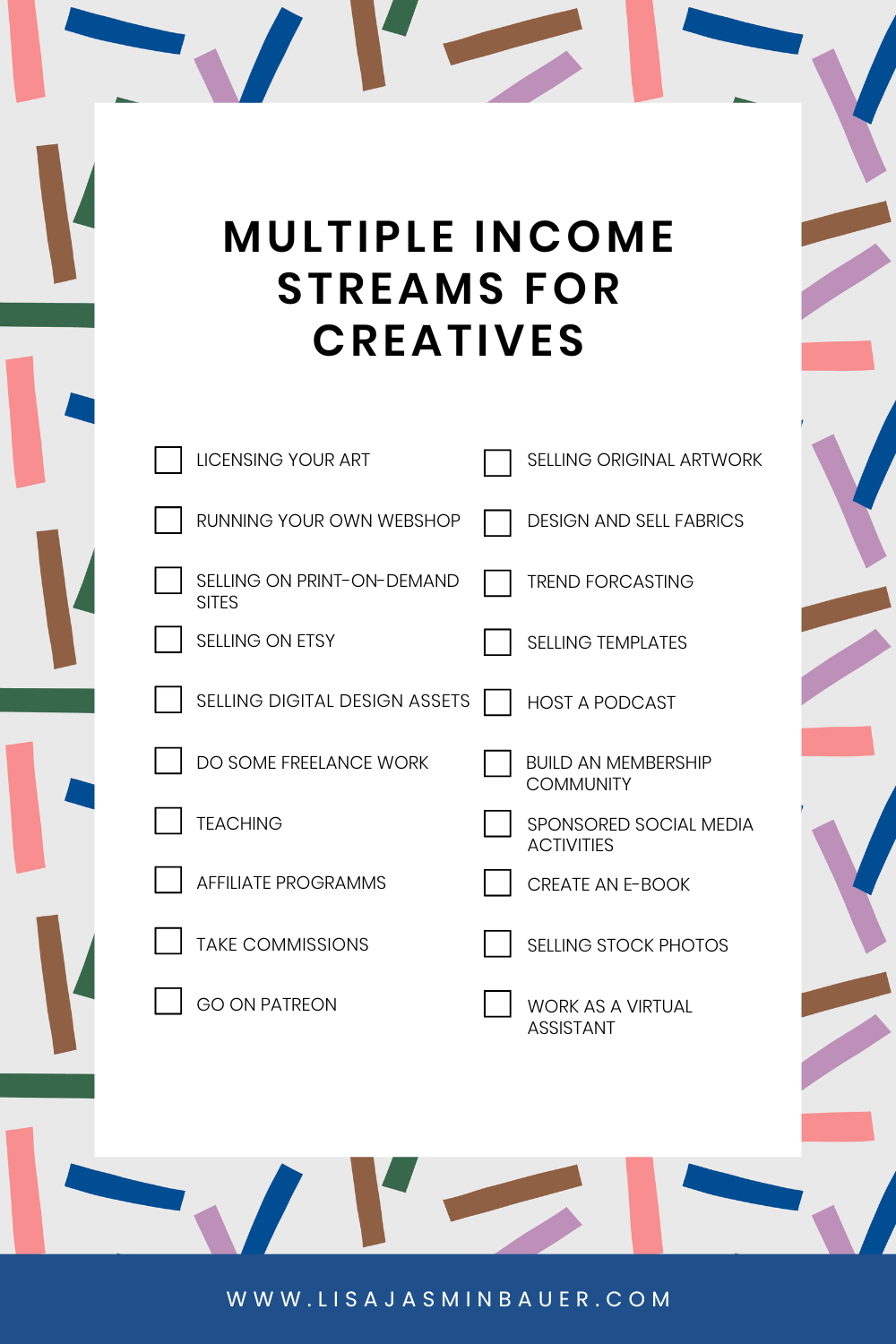 Print-on-demand:
After focusing on creating a variety of designs and building my portfolio in early 2022, I used the second half of the year to post my designs on print-on-demand marketplaces like Spoonflower, Textilwerk, Society6 and more. While, for example, fabrics via Spoonflower do not work well for me at all, home accessories from Textilwerk run really great! So this year I'm going to cancel some stores and focus on the stores that I really enjoy: It's such a great feeling to see my designs on tactile products knowing I'm bringing a little more color into your lives. And it's so much fun to see your pictures with my pillows in your home on Instagram and earn passive income at the same time. Even if that is not much at the moment, it is still 150€ on average that I can count to my income. And please don't misunderstand – what works and what doesn't is different for everyone. You'll find out along the way.
My own Etsy Shop:
In my Etsy store I sell a small selection of self-produced cards, wrapping paper and more. Although I have great desire to expand the product selection, I focus first on stationery to not exceed my budget for production costs. New this year: More and more digital products will be added. For example, I've added print-your-own posters and my patterns are now available for purchase on Etsy. Who knows, maybe companies will find this way to produce great products with my designs?
Teaching:
At the end of last year, I took my first Skillshare class in my small studio. And what can I say, I enjoyed it so much! It has always been a desire of mine to bring people into creativity and to stimulate creativity. We often have so much inhibitions to become creative, but it is so easy if we allow ourselves to just start. And since with limited time as a mom I can't give any personal creative workshops at the moment, online courses are the perfect match to share my knowledge and joy of creativity anyway. Moreover by editing the videos, I was able to learn something new in 2022 as well. This was so much fun and the next courses are in planning already, stay curious!
Digital Assets:
For the same reason I started a teaching path, I decided to focus on digital assets this year. These should help you to become creative yourself, even if you have only limited means and resources at your disposal. They should stimulate your creativity and invite you to experiment and play. For example, I'm thinking of a poster collage set, for which I provide you with a variety of vector illustrations to boost your creativity and create a variety of posters in your very own style and your favorite colors as well.
Or some editable pattern selections great for your branding projects, shirt and fabric designs, greeting cards, birthday & wedding invitations, scrapbooking, wall posters, social media and ideal for decorating your home, crafts and goods.
Does that sound like a good plan for 2023? Feel free to let me know what you think 🤍